BioTechX Europe is Europe's largest biotechnology congress, bringing together pharma, academia, and clinicians to showcase innovation and foster meaningful collaborations across the field. This year, almost 3000 attendees came together in Basel for three busy days full of insightful discussions, impressive presentations, networking events and more. Amongst this busy time, ONTOFORCE had the pleasure of leading a panel discussion on data centricity, along with a presentation on innovative target identification with one of our customers.
Driving data centricity in the life sciences industry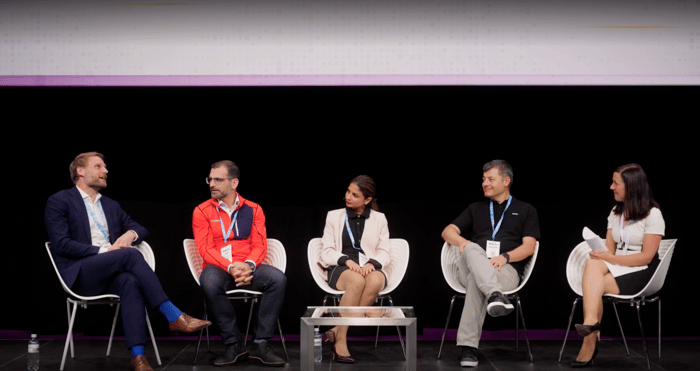 ONTOFORCE's Vice President of Solution Enablement, Bérénice Wulbrecht had the opportunity to moderate a discussion entitled "How are data-centric approaches transforming the life sciences industry?" featuring an esteemed panel of speakers:
Some key takeaways from the discussion:
Data is there to serve a purpose
There is a big top-down push to build out technology for data but first, an organization must consider, for what purpose, for which goals? These pieces of technology are only tools to solve a problem, they are not solutions within themselves. Succeeding with data centricity requires an organization to think about what can be generated with their data and what use cases can be addressed. Additionally, organizations need to consider the value case behind the technology they want to bring in, and how it can be used to create further benefits beyond immediate needs.
Culture comes first
When thinking about the FAIR (findable, accessible, interoperable, reusable) data principles, there is a propensity to start with interoperability and systems before thinking further.
However, adopting the FAIR principles involves firstly, establishing the proper culture in which FAIR can be implemented. Understand that politics and the culture these politics beget can be major threats to implementing FAIR properly.
Secondly, an organization needs to be paying attention to its processes. There need to be processes in place that not only enable appropriate governance and findability, but that also support the desired culture and encourage colleagues to fully leverage existing technology before implementing new technology and systems.
External data is key
Ironically, external data can be easier to access than internal data. Ultimately though, external data is crucial for success, but organizations need to be smart about which types of external data they are purchasing and the scale at which they buy. When considering which data to invest in, the key factors are price, quality, and timing.
Generative AI is still in its infancy
Generative AI is not just a hype; however, we are still in infancy with the technology and organizations need to consider what level of risk they are willing to accept when adopting and utilizing GenAI, especially large language models (LLMs). Additionally, while GenAI can help organizations solve problems, teams need to be able to articulate what the problem is in the first place rather than reverse engineering a solution to fit to a problem.
Unlocking novel therapeutic targets
ONTOFORCE's Vice President of Sales & Partnerships, Carl Latham, had the opportunity to present with James Longden, Head of Discovery Biology at e-therapeutics on driving data innovation to accelerate target identification.
e-therapeutics is a UK-based biotech company that focuses on integrating computational power and biology information to discover life-transforming RNAi medicines. Their technology captures and models human biology, allowing them to identify novel targets and develop RNAi medicines that rapidly progress to the clinic.
HepNet™ is e-therapeutics's proprietary, hepatocyte-specific, computational biology platform that addresses key limitations of the biopharmaceutical industry, including extracting value from big data, addressing complex diseases, and improving translatability in R&D.
HepNet™ is a combination of unstructured data, structured data (through the knowledge graph), and proprietary network analytics. HepNet™'s knowledge graph is built by leveraging ONTOFORCE's DISQOVER, which integrates large numbers of internal and external data sources. Additionally, DISQOVER assists with ontology management, importing raw data, and edge prediction (via the graph structure).