ONTOFORCE partners with Princess Máxima Center to facilitate more efficient pediatric oncology research with innovative data technology
(Ghent, Belgium and Utrecht, the Netherlands – 22 February 2023)
ONTOFORCE's data and knowledge platform solution is added to the digital architecture at the Princess Máxima Center for pediatric oncology, the Dutch childhood cancer research hospital.
ONTOFORCE, a leading provider of data and knowledge technology for life sciences has entered a partnership with the Princess Máxima Center for pediatric oncology in Utrecht, the Netherlands, for the use of ONTOFORCE's data and knowledge platform product, DISQOVER. The Princess Máxima Center will use DISQOVER to connect their siloed data sources in one harmonized platform enabling optimized data exploration and time and cost efficiencies. The contract follows an extensive pilot in 2022, involving a wide range of Princess Máxima Center researchers and clinicianswho gained a detailed technical understanding of the DISQOVER technology and experienced first-hand how it can efficiently transform operations.
The Princess Máxima Center's mission is to cure every child with cancer, with optimal quality of life. To achieve this, a fundamental pillar of the organization is to ensure an optimized exchange of data and knowledge between research and care units so cross-functional data can be optimally and securely found and accessed, in compliance with privacy and security policies. ONTOFORCE's DISQOVER platform will facilitate this process, strengthening Princess Máxima Center's data exploration capabilities and enabling them to uphold the FAIR (findable, accessible, interoperable, and reusable) data principles as a research institution best practice. On top of the value that DISQOVER will bring in terms of efficiencies, innovation, and data democratization, ONTOFORCE's team of data science experts will also support the Princess Máxima Center users so they can achieve maximum results within the platform to further optimize research capabilities.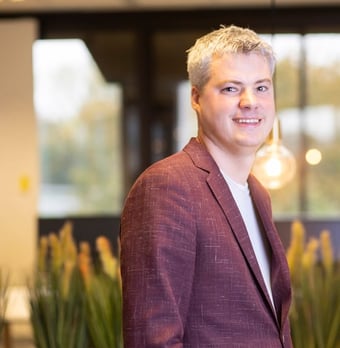 Menno J. de Vries, Research IT Coordinator and DISQOVER Product Owner at Princess Máxima Center
ONTOFORCE's flagship product, DISQOVER is a knowledge platform optimized for search and exploration that draws on semantic technology and an ontology-based knowledge graph to find links between data across databases faster and more efficiently. The platform has been developed for the life sciences sector and pre-ingests 140 of the top healthcare and life sciences public data sources. Linking these data sources can not only help healthcare organizations bridge the gap between research and the clinic, it also allows users to uncover new data connections and draw insights to improve future research and care.
"Working with the Princess Máxima Center for pediatric oncology is an honor for the entire ONTOFORCE team," says Valerie Morel, ONTOFORCE Chief Executive Officer. "Supporting the organization in achieving success in their research and care operations is a task that we take to heart, as such success means improved outcomes for their patients. We're thrilled to be starting the year by commencing this partnership and are looking forward to the collaboration that's to come."
Michiel Kooper, Managing Director IDT (Information Technology, Data Provision, and [Biomedical] Technology) at the Princess Máxima Center for pediatric oncology, says "With ONTOFORCE's next level search technology, we will be able to safely open up more clinical data for researchers than ever before, helping us to improve our care for children with cancer and to accelerate our pediatric oncology research. We've already received great support from ONTOFORCE's data science experts in implementing DISQOVER so it is tailored to the needs of our organization. We look forward to seeing the results of our partnership in practice."
---
About ONTOFORCE
ONTOFORCE helps life sciences organizations accelerate research and drug development for improved patient outcomes by unlocking hidden insights from data. Founded on semantic technology and an ontology-based knowledge graph, their flagship product, DISQOVER, is a data and knowledge platform developed specifically for the life sciences industry. DISQOVER seamlessly connects an organization's internal, siloed data with licensed data and public data in one easy-to-use, customizable platform, enabling efficient data exploration and analysis.
DISQOVER has over 10,000 users across the globe and is deployed by 10% of the top 100 pharma companies and many biotech organizations. Users include scientific researchers, bioinformaticians, data scientists, and many other roles.
ONTOFORCE is headquartered in Ghent, Belgium and has a secondary office in the United States in Cambridge, Massachusetts. Learn more about ONTOFORCE at ontoforce.com and try DISQOVER at disqover.com.
About the Princess Máxima Center for pediatric oncology
When a child is seriously ill from cancer, only one thing matters: a cure.
Every year, 600 children in the Netherlands are diagnosed with cancer. Sadly, one in four of these children dies. That is why in the Princess Máxima Center for pediatric oncology, we work together with passion and without limits every day to improve the survival rate and quality of life of children with cancer. Now, and in the long term. Because children have their whole lives ahead of them. The Princess Máxima Center is no ordinary hospital, but a research hospital. All children with cancer in the Netherlands are treated here, and it's where all research into childhood cancer in the country takes place. This makes the Princess Máxima Center the largest pediatric cancer center in Europe.
More than 900 healthcare professionals and 450 scientists work closely with Dutch and international hospitals to find better treatments and new perspectives for a cure.
In this way, we offer children today the best possible care, and we take important steps to improve survival for children who cannot not yet be cured.
---
Download the full press release - English