In October, ONTOFORCE held its 2022 Customer Advisory Board and User Group Meeting. Customers from across Europe and the US joined us at our Ghent headquarters for this interactive two-day event.
The event was a great opportunity to hear directly from customers about their organization's use of DISQOVER and how they see the use of the platform evolving across their company, and what our teams can do to support these evolutions. We fully champion the power of collaboration so we organized various discussion-based sessions and activities throughout the two days so we could further hone in on the current use of DISQOVER and how it can be enhanced in line with user and organizational needs.
A busy two days
After introduction sessions on company vision and product strategy from ONTOFORCE's CEO Valerie Morel and Senior Vice President of Engineering Michael Vanhoutte, we handed over the floor to our customers. Several of our customers presented on how DISQOVER is making a difference in their organizations, among them were:
Paul Vauterin, CIO, Aelin Therapeutics*. Paul shared how Aelin's data science team utilizes DISQOVER, detailing their impressive system architecture and the feedback loop they've developed to support researchers with their day-to-day operations and decisions. Starting with automated data import from functional testing, the team uses DISQOVER to query, explore, visualize, and correlate data to identify hit and lead compounds. From these realized compounds and assay results, as Paul explained, the Aelin team utilizes QSAR machine learning which they then feed back into improving in silico design, impacting further testing. This whole cycle helps advance Aelin's therapeutic programs faster.

Markus Hartmann, Head of Data Value Office - R&D Digital & Data Transformation, Merck KGAA.

Markus gave us some insight into Merck's R&D data strategy and the building blocks that make up the strategy. Specifically, DISQOVER is used to connect the R&D team's data domains together, which is helping the team deliver on their commitment to upholding FAIR (findable, accessible, interoperable, reusable) data principles. Markus also detailed the various DISQOVER use cases that are currently being utilized across departments. For their clinical studies use case, for example, the team uses DISQOVER to link external and internal data, creating a clinical trial catalogue which can be filtered down per a user's criteria. This catalogue can also be visualized as a timeline color-coded by indication (so users can easily see how long previous trials lasted) and as a geographic map based on site location and patient enrollment, revealing crucial insights for planning successful future trials.
Tom Plasterer, Data Strategy Lead, Oncology Translational Medicine, AstraZeneca.

Tom presented on the topic of data centricity by sharing more about a few projects currently running across AstraZeneca, highlighting how these projects are unified in data-centric principles, approaches, and technology stacks. For the Translational Medicine department and their projects, the customized DISQOVER platform operates as an interactive dashboard providing search and browsing capabilities to enable broad data access and analysis tools to unlock a deeper understanding of immuno-oncology and new research directions. The platform connects their internal trial system, biomarker knowledge base, and integrated external applications for users and is a driving force within their data ecosystem. In other words, "the Google for translational medicine."


We rounded out the afternoon with discussion sessions on user experience and the strategic positioning of knowledge solutions. In our discussion about user experience, Sara Velkovska, Product Owner and Ida Engmark, Product Designer, shared more about their current work on the DISQOVER user experience and interface, and what this work will translate to into the future. Specifically, they focused on how DISQOVER's future user interface (UI) will lower the threshold for use, so users with little data science experience will be able to more comfortably navigate the platform.
Hearing our customers' opinions and ideas about user experience and our future UI in this session was particularly important for our teams. ONTOFORCE strongly believes in empowering citizen science data, and to do so, we must ensure that communication channels with users remain open. This allows us to continue to find ways to improve user experience and address any roadblocks to self-service across the whole spectrum of users.
In the evening, some ONTOFORCE colleagues took our guests on a walking tour in the Ghent's historical city center, during which, they got the chance to literally leave a mark on the city. After building up an appetite, the evening finished off with a dinner including many Belgian classics, of course accompanied with plenty of Belgian beers.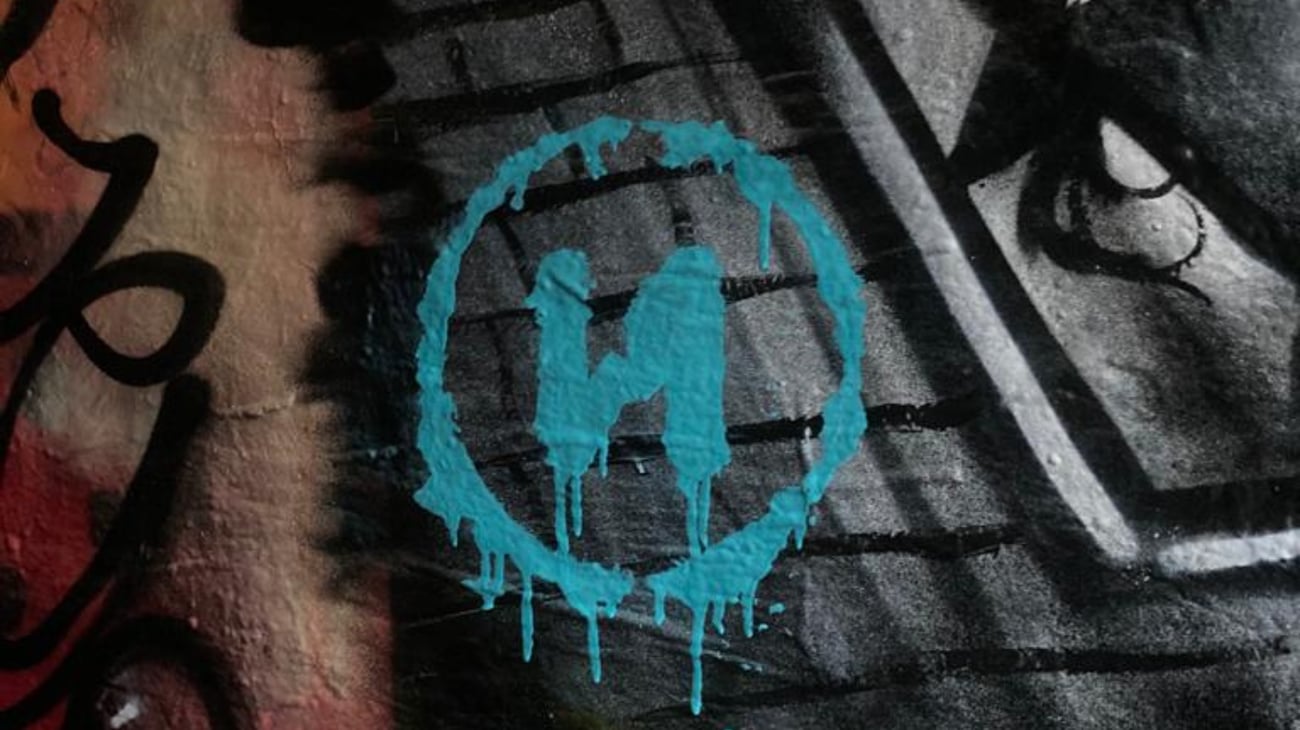 Ghent's Graffiti Street featuring its newest tag, curtesy of our customers!
Essential and insightful discussions
We started out with a roundtable discussion on interoperability, focusing on what role DISQOVER is playing within our customers' data and technical ecosystems. It was great to hear from various customers on the topic, especially on how they see this role potentially growing as DISQOVER grows. This was followed up with a second roundtable discussion centered on unstructured data and the use of natural language processing. Our final and third roundtable discussion was all about user adoption challenges and opportunities. This session became particularly collaborative as individuals shared their strategies for growing DISQOVER user adoption at an organizational level, along with tips for communicating about the value of the product to colleagues across various levels in an organization.
After a lunch break, we sat down for an insightful keynote presentation on
FAIR biomedical data
given by Helena Deus of ZS. She focused on how OMICS technologies are changing the way scientists create R&D knowledge and the main challenges this can pose, such as linking different layers of genomic data, complex datasets, and historical knowledge that is locked in the literature. Addressing these challenges entails being able to transcend FAIR as a concept to recognize it as something to be tangibly applied on a large scale. Doing so, Helena informed us, involves, of course, the use of knowledge graphs but even further, using universal language models in tandem with a platform like DISQOVER and ontology repositories to accelerate the construction of contextual knowledge graphs that can scale. In addition to this, ensuring knowledge graphs are built collaboratively, meaning stepping away from thinking,
"How do I govern my data?"
and instead thinking, "
How do I orchestrate the constellation of people around me and the data they own?"
is essential.
We rounded off the event with a final closing session. In this session, we covered all the key learnings our teams captured from across the two days and shared some of the inspirational quotes we had heard from customers in discussing best practices throughout the event:
"Stop thinking in systems, shift towards data products and connected data."
"Make sure groups are building in the same direction: towards an enterprise knowledge graph."
"Connect with your users and hear what works for them."
The benefits of pre-competitive collaboration
Hosting this event was not only about generating insights and learnings for ONTOFORCE. We were also highly motivated to throw this meeting because we believe in the power of pre-competitive collaboration and knew that our customers in attendance would stand to learn quite a lot from each other.
It was inspirational to see this collaboration take place right in front of us. We heard from many of our attendees that they were walking away from the event having learned more about the power and potential of DISQOVER by witnessing how others are utilizing the platform. Such collaboration can be so powerful in the life sciences industry, an industry in which even incremental organizational advancements can translate into improved patient outcomes.
Many also echoed that it was nice to chat with peers from other organizations and to hear that they are addressing or have addressed very similar challenges when it comes to data management and knowledge sharing. It's quite easy to get caught up in simply solving a problem in order to get on to everything else that needs to be done. We often don't have the time to think how we could approach a problem or challenge differently, leaving us in our own little bubbles. Hearing from others on how they've overcome a similar challenge removes one from their bubble, enabling new patterns of thought and insight on how to tackle future challenges.
Here's what some of our customers had to say about the event:
"It was very lively and very interactive, really fostering the collaborative spirit that we're all working on." – Natalie Romanov, Data Strategy & Liaison, Merck KGAA
"It was very rich, full of interesting ideas, very inspirational. I'm excited to go back and start to think about these ideas and how to implement them." – Roberto Marroquin, Data Scientist, GENFIT
Hear more in our event wrap-up video:
Many thanks to our attendees for joining us. We are greatly looking forward to 2023's edition!
---
* Paul Vauterin left Aelin Therapeutics in December of 2022.