At ONTOFORCE, we're proud to be champions of citizen data science. That means we want to continue evolving our knowledge platform product, DISQOVER, so it is as intuitive as possible, while always performing at a high standard. Today we're announcing DISQOVER's 6.71 release and sharing what's been updated within the platform. Read on to find out more.
Get all your DISQOVER questions answered
DISQOVER has always been valued by users for its ease-of-use and intuitiveness. However, there are still many features and possibilities within the platform that not all users are aware of. To help provide more clarity about DISQOVER and its features, we established our Help Center.
With DISQOVER's recent release, we have made it even easier for all users to access the Help Center. Now, at the top-right hand side of the screen, users can click on the question mark button to reveal a drop down menu. The first menu item takes users directly to the Help Center to quickly get their questions answered or to learn more about a feature.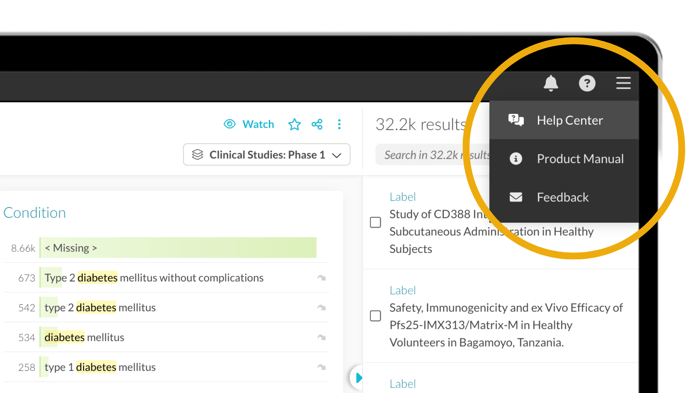 Easily access the Help Center using the menu on the top-right
The Help Center was created in 2021 and has been growing ever since. Our teams update the Help Center site regularly, creating new content and resources based on the feedback and questions they receive from users.
Over the years, the Help Center has expanded to include:
Training videos and guides
Frequently asked questions
User manuals
Release notes
Resources related to specific use cases
Helpful information about plugins and pipelines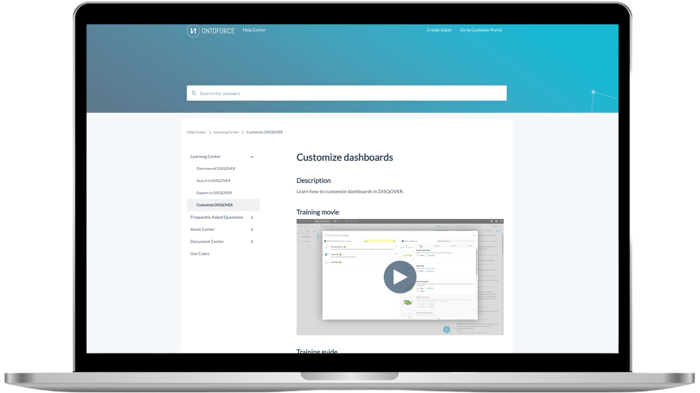 Screenshot of ONTOFORCE's Help Center
"The entire ONTOFORCE team is committed to supporting our DISQOVER users, and we are especially committed to making sure they get the most out of the platform," says Bérénice Wulbrecht, Vice President of Solution Delivery at ONTOFORCE. "The Help Center not only supports users when they have a question about using DISQOVER, it also shows them what's possible by providing straight-forward training and guides. I'm very proud of the expansions we've made to the Help Center thus far and we will continue expanding it, furthering our services and support for the spectrum of DISQOVER users."
Other updates in the 6.71 release
Other updates in this release include:
Bug fixes in DISQOVER impacting novice users
Bug fixes in DISQOVER's remote data subscription (RDS)
Bug fixes in DISQOVER's data ingestion engine
Improved data ingestion engine disk space footprint
Updates to DISQOVER's privacy policy and cookie policy
Want to know more about what exactly this release entails? Check out the release notes in the Help Center.
What's next
Since its inception, DISQOVER has been growing and evolving as our teams remain committed to making updates and advancements to support DISQOVER's users. In 2023 and throughout the coming months specifically, we will be releasing more impactful updates.
One such update is that DISQOVER will soon be available on Kubernetes. Implementing an industry standard for deployment will enable many benefits for our users, including easier set-ups and upgrades, along with higher availability, among many other things. More information about DISQOVER and Kubernetes will be available in the coming few weeks. Stay tuned.
"This is an exciting time for DISQOVER," says ONTOFORCE's Senior Vice President of Engineering, Michael Vanhoutte. "Our teams have been working hard, listening to lots of user feedback and input to ensure DISQOVER's upcoming technology and feature evolutions will truly offer added value in their work and use of the platform. We look forward to growing our value for our users and hearing more from them as we unveil updates throughout the year."
---
Haven't tried DISQOVER yet? DISQOVER helps researchers and data scientists at life sciences companies answer complex questions concerning their research in one platform. The consistent and easy-to-use interface democratizes access to data through self-service knowledge discovery, which enables business users to blend, wrangle, and mash-up datasets. Check out DISQOVER's community edition and experience what's possible with the power of linked data.