ONTOFORCE has released DISQOVER 6.74.0, the latest version of our flagship product. In this new version, users will benefit from RDS and general performance improvements, reduced pipeline complexity, and more. Read on to learn more about what's new.
RDS improvements
With DISQOVER's remote data subscription (RDS) packages, domain-specific data sets of choice can be downloaded and ingested into DISQOVER, providing the flexibility to make data integration choices based on an organization's use cases so users can optimally use and explore data.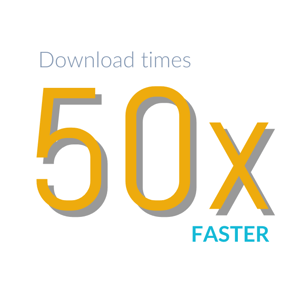 Faster download times
With this update, the download time of these data sets has been made 50x faster so users can benefit from the data they need quicker and with little to no downtime.
Improvements for typed links
In DISQOVER, typed links offer a different way of filtering for end users that provide additional insight into data. For example, when searching for clinical study data, a user can find their studies of interest based on their search criteria. From there, they can look into which organizations are involved in these studies. Then, using the typed links function, a user can see which organizations are the lead sponsors.

DISQOVER is equipped with a powerful and ultra-fast data ingestion engine that allows users to import, manipulate, link, and integrate their own data into DISQOVER, using an innovative visual pipeline environment. Typed links must be configured within the data ingestion engine in order for users to benefit from them via DISQOVER's search platform.
With this update, it is now easier for data wranglers using the RDS in combination with the data ingestion engine to update and maintain typed links via pipelines. In simplifying the configuration process of typed links for data wranglers, in turn, end users should see benefits of increased instances of available typed links in their data.
Improved helm charts for DISQOVER on Kubernetes
DISQOVER is available on Kubernetes, the leading container orchestration platform that allows for easy deployment and improved application availability. Helm charts are the industry standard for deploying applications on Kubernetes. Improvements in the DISQOVER Helm charts now allow the use of Kubernetes Secrets, nodeSelectors, and Affinity.
Investing in the future of DISQOVER
In the world of data integration and management, efficiency and speed are paramount. ONTOFORCE has consistently dedicated effort towards making data more accessible, understandable, and actionable in DISQOVER. With this release, we have further demonstrated our commitment to improving DISQOVER's performance, so it continues to empower organizations and researchers to efficiently and effectively integrate and manage their data.
Change in release frequency
Following the 6.74.0 release, DISQOVER will transition to releases every four weeks. This will enable ONTOFORCE to present new features and updates to users even faster. You can expect communication about what's new in DISQOVER on the ONTOFORCE blog on a quarterly basis.
---
Haven't experienced DISQOVER yet? DISQOVER helps researchers and data scientists at life sciences companies answer complex questions concerning their research in one platform. With customizable dashboards and 140 data source pre-ingested into the platform, DISQOVER enables users to directly access valuable insights without the need to consult multiple sources. Request a demo to experience what's possible with the power of linked data.