Today, ONTOFORCE is happy to announce the release of DISQOVER 6.73.0, the newest version of our flagship product. This update brings enhancements in data provenance, new data sets, along with SolrCloud support. It builds upon our dedication to constantly improve and innovate the DISQOVER platform so it can continue to drive value for our users across the entire drug development timeline. Read on to learn more about what's new.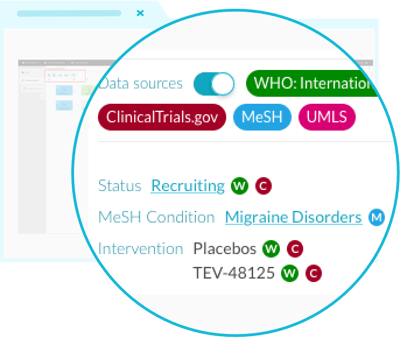 Improved data provenance
Data provenance is a crucial feature in any knowledge graph platform as it provides transparency and reliability by revealing the origin, history, and/or lineage of the data within the graph. Provenance information enables easier error detection, data quality assessment, and identification of potential biases.
Data provenance in DISQOVER refers to the capability to trace the origins, transformations, and utilization of data over its lifecycle. Accessing data provenance has always been a key aspect of DISQOVER and is prominently featured on the platform, enabling users to easily understand where the data comes from, who handled it, and what alterations or enhancements it has undergone.
With DISQOVER 6.73.0, we've taken our commitment to data provenance to the next level: data provenance is now more precise and accurate than ever before, especially when combining data. This update improves how end users interact with data, enabling them to more effectively review sources so they can better validate findings.
This update is an important one as it lays the foundation for more provenance-based filtering feature improvements in the future. ONTOFORCE is committed to increasing the value users derive from the data within DISQOVER, and enabling increased trust with data sources is a major part of that commitment.
10 times faster querying thanks to SolrCloud support for DISQOVER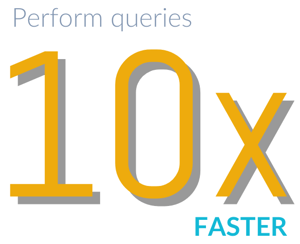 With this release, ONTOFORCE is now offering SolrCloud support for DISQOVER. SolrCloud is a powerful data processing and search engine that offers robust capabilities for different types of search and has scalability features that are necessary for big data sets.
With SolrCloud support, DISQOVER's speed, indexing, and availability will be improved. This means our users will benefit from enhanced performance and stability, even while handling vast amounts of data. The ability to share a SolrCloud installation across multiple DISQOVER instances will enable significant cost savings for ONTOFORCE customers.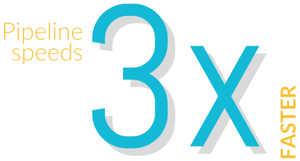 DISQOVER will now perform queries even faster - in some instances up to 10x faster – with little to no down times. Users will also benefit from pipeline speeds up to 2-3x faster thanks to improvements in the indexing phase.
New RDS data sets
With DISQOVER's remote data subscription (RDS) packages, domain-specific data sets of your choice can be retrieved and ingested into DISQOVER, providing the flexibility to make data integration choices based on your use cases so you can optimally use and explore data. New data sets in the following domains have been added to DISQOVER: Organization, Medical Device, Drug, Organism.
You can learn more about the data sets here.
DISQOVER's continuous improvement
"By enhancing data provenance and introducing SolrCloud support," says ONTOFORCE's Senior Vice President of Engineering, Michael Vanhoutte, "we are providing our users with more reliability while driving scalability and lightning-fast performance with the potential of lower run-time costs. We know these advancements will further support our customers as they unlock the true potential of their data using DISQOVER."
The DISQOVER 6.73 release is a significant step forward in ONTOFORCE's ongoing mission to empower organizations and researchers with a scalable and trustworthy data integration and discovery tool. We're excited about these new features, and we believe they will add substantial value to our users' data experiences.
Want to know more about what exactly this release entails? Check out the release notes in the Help Center.

---
Haven't tried DISQOVER yet? DISQOVER helps researchers and data scientists at life sciences companies answer complex questions concerning their research in one platform. The consistent and easy-to-use interface democratizes access to data through self-service knowledge discovery, which enables business users to blend, wrangle, and mash-up datasets. Check out DISQOVER's community edition and experience what's possible with the power of linked data.