"Smarter and FAIR data can change lives, from patient to researchers and even beyond. Interoperability is crucial for making sense out of public, internal and third party data."
Public bioinformatics data is hugely important for research in our industry. It enables innovation to happen across company boundaries that would otherwise be much more difficult. At ONTOFORCE, we've built our business entirely around the importance of opening up data and making it searchable to as many people and organizations as possible.
When companies have the data they need in a format that is easy to interface and search, they can make informed decisions that will save them time and money. No company wants to waste their time sifting through data that will not help them. And if you're a researcher, it's important to be able to get your hands on information about what your competitors are doing so you can stay ahead of the game.

What makes this possible is having a data standard that all parties can easily use and access. It's not just about being able to read public bioinformatics data; it's also about being able to take advantage of third-party data (not necessarily bioinformatics) when it's available for analysis.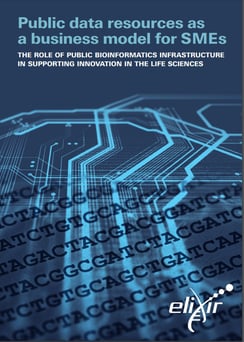 That's exactly the focus of the ELIXIR report: 'Public data resources as a business model for SMEs – THE ROLE OF PUBLIC BIOINFORMATICS INFRASTRUCTURE IN SUPPORTING INNOVATION IN THE LIFE SCIENCES'.
This report highlights companies whose business model is fundamentally based on selling services on top of public data. The existence of this vibrant and fast-developing SME ecosystem in the life sciences is yet to be acknowledged as such. We're glad that we were able to contribute to the ELIXIR report and be featured as a prime example of maximizing public data for new healthcare discoveries.
You can download the report for free at the ELIXIR website.
Check it out!
ELIXIR is an intergovernmental organization that brings together life science resources from across Europe. ELIXIR includes 21 members and over 180 research organizations. It was founded in 2014 and is currently implementing its first five-year scientific program. An ELIXIR Node is a collection of research institutes within a member country. ELIXIR Nodes run the resources and services that are part of ELIXIR. EMBL (European Molecular Biology Laboratory) is an intergovernmental organization so it is the only Node that is not associated with a country.